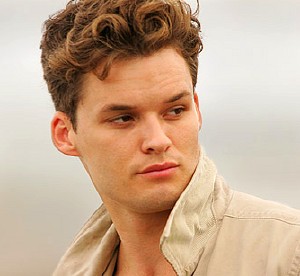 Austin Nichols (b. 1980) plays John Monad on John From Cincinnati.
The son of a 10-time water skiing champion and a radiologist, Nichols was raised in Texas, where he became a successful competitive water skier until he injured his shoulder and was forced to retire.
Shortly afterwards, Nichols moved to Los Angeles to pursue a career in acting. He has appeared in many guest spots on television shows such as CSI and Six Feet Under. He co-starred in the 2004 blockbuster The Day After Tomorrow, in which he played an academic and romantic rival to Jake Gyllenhaal's main character. In Wimbledon, a film released in 2004, Nichols played an arrogant American tennis pro opposite Kirsten Dunst and Paul Bettany.
Nichols had a role in David Milch's series Deadwood, and was then signed to a rare holding deal with HBO, leading to his starring role in John From Cincinnati.
While Nichols says that he's been treated well by HBO, he jokes that there's one thing they've overlooked: "I actually don't know if I will ever see this program because I don't have HBO. I thought if you were the lead in a show they would actually send someone to your house and hook you up, but I guess not." [1]
References
Edit
↑ "LAist Interview: Austin Nichols", LAist.com, Tim Hammer. June 7, 2007.
External links
Edit