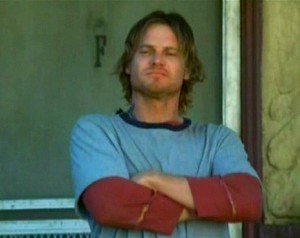 Butchie Yost (aka Mitchell Yost, Jr.) is a former surfing star, known in his glory days as "the Beast". He's now addicted to heroin, and lives in room F of the rundown Snug Harbor Motel. He has a son, Shaun, who lives with Butchie's parents, Mitch and Cissy.
In the first episode, Butchie befriends John Monad, and strange things start happening in his life.
In "His Visit: Day Two Continued" we learn that Butchie has mysterious implants in his head that overheated during Kai's vision.
HBO Character Description
Edit
Much like his father, Butchie rocketed to stardom, only to promptly leave his glory days behind him. The same rebellious image that bought Butchie fame on the circuit - and lined the pockets of his agent, Linc Stark - eventually landed the surfing icon at the bottom of the heap. Now squatting at the Snug Harbor Motel and feeding a smack addiction, Butchie has little to show for his gifts besides a faded poster on the wall and a talented son named Shaun.

[1]
References
Edit
↑ "HBO Cast & Crew: Butchie Yost", HBO.com, 2007.