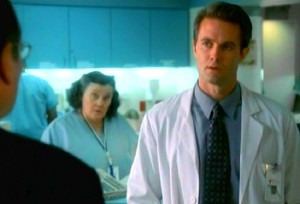 Dr. Michael Smith works at Mercy Hospital. He takes care of Shaun after the accident at the Huntington Beach competition.
In "His Visit: Day Three", he introduces himself as Michael Smith to Linc Stark, who is cleaning the Yost home.
HBO Character Description
Edit
As troubled by Shaun's miraculous recovery as he was by the boy's catastrophic injuries, Dr. Smith does his best to offer the family answers - even though he's hunting for them himself.

[1]
References
Edit
↑ "HBO Cast & Crew: Dr. Michael Smith", HBO.com, 2007.