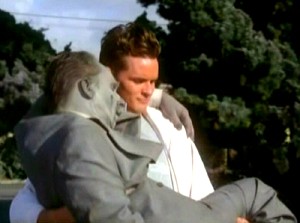 Gilbert Rollins is the man who molested Barry in Room 24 of the Snug Harbor Motel when Barry was ten years old.
Barry first mentions the abuse during his gun-wielding episode in "His Visit: Day One". John prophesies, "Room 24 will give up its dead, and its dead shall be forgiven."
When Barry opens Room 24 in "His Visit: Day Two", he runs from the room, having seen Rollins' spirit. He tells Meyer and Ramon that Room 24 is haunted, and implies that the abuse occurred several times. Barry prays, "Please, God, help me live. I forgive Gilbert Rollins. I forgive Butchie Yost."
Barry closes the door to Room 24 in "His Visit: Day Two Continued", mentioning Rollins' habit of singing "You Light Up My Life" after sex.
John carries an ashen-skinned Rollins out of Room 24 during the Snug Harbor Motel cookout in "His Visit: Day Five" and places him on a bench. In keeping with the dreamlike tone of the cookout sequence, nobody comments on the dead man's appearance at the gathering.