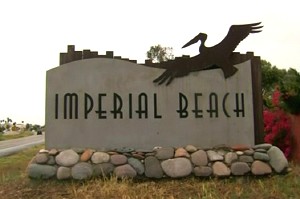 Imperial Beach, California is a city in San Diego County, California. The population was 26,992 at the 2000 census.
The city occupies the extreme southwest corner of the continental United States, being bordered on the west by the Pacific Ocean, and Mexico on the south.
Known as a biker town for its rough atmosphere and seedy beachfront area throughout the 70s, Imperial Beach has undergone a significant makeover in the last ten years. However, the town is still a low-key beach community, with a growing population of Latinos who make up the majority of the population. For years the town was controlled by pro-growth elected officials, but over the years environmentalists and other activists helped elect a group of smart-growth and no-growth elected officials. The City of Imperial Beach is now implementing an ambitious community redevelopment plan to improve the badly developed commercial corridor along Palm Avenue.
The town is the main location for John From Cincinnati, and the show was filmed at various locations in the Imperial Beach area.
External links
Edit