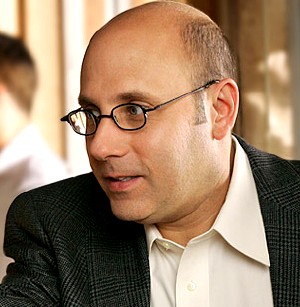 Meyer Dickstein is an attorney and a zealous surfing fan. He idolizes Butchie Yost, the ex-surfing champ, and tries to help him whenever possible.
Meyer's practice is Surf Side Realty. [1]
Meyer arranges the sale of the Snug Harbor Motel to Barry Cunningham in the first episode.
HBO Character Description
Edit
The only hobby Meyer is more devoted to than surfing is rescuing Butchie Yost from himself. Viewing his hero with the protective eye museum curators reserve for Greek sculpture, Meyer fights to preserve Butchie's deteriorating existence. Whether covering his debts or defusing his enemies, Meyer continues to look after the washed-up pro long after Butchie's parents have given up.

[2]
References
Edit
↑ YouTube videos: "Surf-Side Realty Commercial".
↑ "HBO Cast & Crew: Meyer Dickstein", HBO.com, 2007.