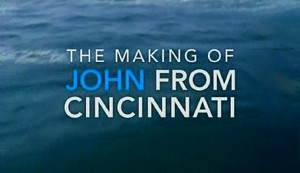 The Making of John From Cincinnati is a 10-minute preview featurette shown on HBO in the week before John From Cincinnati's premiere. The featurette first aired on June 6, 2007.
The show features interviews with executive producers David Milch, Mark Tinker and Kem Nunn, as well as cast members Bruce Greenwood, Rebecca De Mornay, Austin Nichols, Brian Van Holt, Luke Perry, Ed O'Neill, Keala Kennelly, Emily Rose, Chandra West, Matt Winston, Luis Guzman, Jim Beaver and Willie Garson.
On-set dresser Brent Mannon, costume designer Nadine Haders and make-up artist Ron Snyder also discuss the behind-the-scenes action.