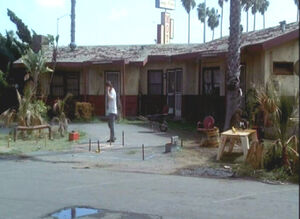 The Snug Harbor Motel is a run-down old motel in Imperial Beach.
In "His Visit: Day One", we learn that Butchie Yost has been living in Room F for six months without paying rent. Meyer Dickstein sells the motel to a lottery winner, Barry Cunningham, who plans to tear it down.
In "His Visit: Day Two", Barry has a change of heart and decides to renovate the motel instead. The early stages of this project can be seen in "His Visit: Day Five", with the cleansing and refurbishment of the swimming pool, and laying out of a shuffleboard court. In "His Visit: Day Six" the concrete for the new shuffleboard court is poured. Hanging planters were also added to the rooms to further beautify the old motel.
Barry claims that he was "deflowered" in Room 24 at the age of ten, by a man named Gilbert Rollins. During John's cookout speech in "His Visit: Day Five", John carried the ghost of Rollins out of Room 24, and sat him on a bench.
Exteriors are shot at the El Camino Motel at 550 Highway 75, Imperial Beach, CA.
External Links
Edit