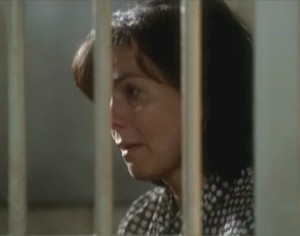 In "His Visit: Day One", Cissy is in jail with a Mexican woman, who cries and gives her something. Without a transcript, I can only make out bits and pieces. I think that she says "Para mi hijo (for my son)" and then "para fuerza (for strength)" as she hands something -- a rosary? -- to Cissy.
After that, the crying and my basic comprehension of Spanish prevent me from understanding much else. Is the lady worried for herself and her son, or is she concerned for Cissy and the Yost clan? If someone could translate and transcribe the scene, there might be some small insight to be found.
What do you think? Post your ideas!
Please sign in before adding a comment.
Type four tildes ~~~~ at the end of your post;
that automatically adds a signature.
Is it possible that she said "Para su hijo", or "Para tu hijo", which means "for your son"? This could be referring to Butchie, or even Shaun. eegorr 02:10, 3 July 2007 (UTC)
Translation: Please. My son was looking for The Lone Murderer. The Masked Wrestlers. User:65.27.245.208 4 July 2007
The most recent episode -- "His Visit: Day Four" -- had Cass filming John with masked wrestlers. Is John the "Lone Murderer"? User:JohnnySocko 9 July 2007
I found the translation below on another forum. I can't vouch for it because I don't speak Spanish, but it is an interesting variation.
- Para mi hijo. - Está fuera. - Por favor, mi hijo estaba buscando el solitario asesino. - Los salteadores enmascarados.
- For my son. - He's outside. - Please, my son was looking for the solitary assassin. - The masked attackers.
Any Spanish speakers have a different take? 75.3.122.222 20:11, 12 July 2007 (UTC)